Order Quality Decking in London
We offer professional decking installation services in London. As a result, you will get an outdoor space, perfect for entertainment and family celebrations.
Your decking will be fitted by experienced technicians who are experts in their field. You can choose from a variety of styles including hardwood, composite, plastic, and timber – the finished article will be durable, safe, and attractive.
When you've made your final decision, get in touch with a customer care professional. You'll be asked a few simple questions. The answers you provide will enable us to prepare for your specific service.
Decking Installation in London Completed Regardless Of The Weather
We'll give you:
A surface that can be easily adjusted even after construction. Have your requirements changed? Feel free to add an extension or more
A non-obligatory, onsite survey that is free of charge prior to any work done.

An ideal disguise for patches of dead grass, drain covers, and other unsightly elements. We'll just construct your decking over them!
Somewhere you can sit and relax in comfort while surrounded by your lush outdoor landscape. Deckings are suitable for all types of garden furniture
An incredibly attractive yet functional addition to your outdoor space.

You can use it for dining, entertaining, and so much more

A unique-looking garden made possible by high quality materials and expert workmanship. Your friends and family will be stunned
Are you looking for a way to cut your expenses? We can help you out! If you combine our decking service with roof terrace design, lawn laying or garden fencing, you will be eligible for a discount.
Garden Decking Installation Solutions
Before the construction work can begin you'll need to give us your requirements. What materials do you want used? And where should the decking be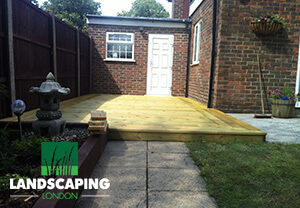 installed in your garden? Once you've given us this information we'll give you a quote. If you agree with it, we'll start building using high-end deck boards.
Your decking service in London will be completed ASAP. After it has been, you can start thinking about what furniture you desire, and what decorations you'd like to be put up. Your choices will determine whether your decking is a place for socialising, entertaining, playing, or other activities. However, don't forget that this can always be adjusted. You can transform your decking to suit your needs for any given day.
Think you'll want to make some changes in the future? That's not a problem. The surface can be easily changed to fit new requirements. You can modify its shape, increase its size, and more. But for now sit back and relax on your new, stylish decking.
Your Decking Ideas Will Be Made Real by Experts
A team of seasoned, specialist, and passionate technicians. Take note - your opinions will always be taken into account. And if possible, we'll adjust our work methods accordingly. Ready to make your booking?
Contact us by phone or online. At any time of the day or night. Don't hesitate to request a decking installation London quote.