Paving in London - We'll Clear, Level, and Lay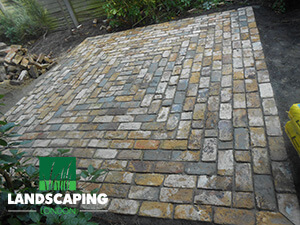 Enhance the kerb appeal of your property by using our expert paving services London. Once finished, your outdoor space will look stunning.
There are so many options for you to choose from. We can work with both man-made and natural stone. And you can decide their hue, shape, and size.
Your paving stones will be installed with a minimum of disruption – you'll get a long lasting surface that'll continue to be attractive for years to come. Connect with an expert today for an accurate, preliminary cost estimate.
Laying a Paving That's Fit for All Seasons
Reserve your London paving appointment today and get:
Want to illuminate your patio at night? Have us expertly install garden lighting. Need more privacy? Try our garden fencing. And don't forget - if you book more than one service you'll get a special discount.
Don't Bother Laying Paving in London by Yourself – Let Us!
Take these steps to secure your slot: connect with an expert. Tell us the exact kind of material you require. Meet an expert onsite. And then agree to the
fixed cost estimate. It's that easy.
Paving is multi-purpose. It can be used to lay a patio, line your pool, and that's not all. Is there a particularly troublesome area of grass in your garden? If it keeps overgrowing, make sure you instruct us to fit your paving over it – this issue will be solved for good. What's more, there's so much you can do once your slabs have been laid…
You'll have an area that's low maintenance and weather-resistant. Are you a keen outdoor party host? You can barbeque on your paving, arrange seating, and even more. Add flower pots and planters for colour. And if you want more privacy, have screens installed.
Authentic London Stone Paving Fitted by Passionate Specialists
Remember – you can ask us anything during your paving service in London. We'll listen to your opinions and always take them into account when working. Wondering who'll complete your job? You'll be sent seasoned professionals who've achieved real results for customers past and present.
You can call us any time you like. That includes during the day and the night. A customer care professional will take your details. And then provide you with a quote. Find out exactly how to contact us here. Laying a patio has never been easier!