Multi-Purpose Shed Installation in London
There's so much you can do in a garden shed…
Remove clutter from your outdoor space. Organise your tools. Carry out hobbies like carpentry. And that's not all! Sound good to you?
Then secure a professional shed installation London team from us – we offer you sheds large and small, suitable for storage and more. Want to get started? Make your requirements known to a customer care professional. That said, don't worry if you've not made a final decision. You'll be sent an experienced technician who'll help you determine exactly what you need.
Building A Shed That Lasts
Pick us for:
A multi-purpose storage space fit for furniture, equipment, bicycles, and so much more. You can even use it to carry out carpentry!
Somewhere you can organise all your tools. Never able to find your screwdriver or hammer? Don't let it happen to you ever again
A more attractive outdoor space made possible by your new shed. All the items you don't want your friends and neighbours to see can now be concealed

A functional yet appealing addition to your garden that can be customised at any time

. All you've got to do is buy the paint
A shed that is maintained properly will stand in your outdoor space for many years to come. It couldn't be more cost effective
You can arrange a non-obligatory onsite survey by one of the landscapers prior to any work done.
Wondering how combining our London shed installation service with either garden lighting or patio design benefits you? It makes you eligible for an amazing discount.
Building A Shed In London For Storage & Hobbies
You can book us in three simple steps. Firstly, get in touch and give us your information. Secondly, arrange a non-obligatory onsite evaluation. Thirdly, receive and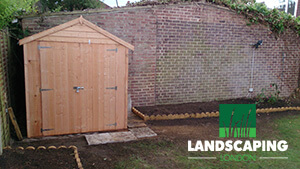 then accept a final, fixed quotation. Once that's done we'll start working. But remember, before we can start building your shed a base of concrete must be put down.
Now that you've got a shed what can you do with it? It has so many uses! Start by removing all the clutter from your garden. No longer will it's visual appeal be dampened by stray tools, bicycles, and other undesirable objects. Then, you can start organising your tools exactly how you've always wanted. It'll never take you thirty minutes to find the one you want again. Is carpentry one of your hobbies? That's great because your new storage space is ideal for performing it. All you've got to do is install a work bench.
Don't go anywhere else for shed installation in London.
We've Got Garden Shed Expertise
Specialists who've been properly trained can give you expert advice before, during, and after your service. How can you ensure you'll get a qualified professional to install your shed? Hire only us. We'll dispatch a team made up of proven and dedicated shed builders. Don't forget - we take your opinion very seriously.
When you're ready to start building your shed contact us. We're reachable both over the phone and online round-the-clock.