Premium Storage Solutions in London for All
Your garden can quickly become cluttered if you haven't got adequate storage space…
Stop your search for storage solutions London – we're the answer. Experienced technicians will build innovative containers that will conceal your bins, bicycles, garden furniture, tools, and more. Choose between hardwood and softwood timber. And then have it painted in the colour you desire.
You'll get a sturdy, secure, and discreet place to store all of your items. Act now and reserve your appointment. Tell us what you want and we'll calculate a quote. The booking process couldn't be simpler!
Garden Storage Solutions Suitable for Everyone
Pick us and…
If requested, you can receive a free viewing of the property by a specialist prior to any work for a better, more detailed price estimation
Make your outdoor space completely clutter-free. No longer will your bins and tools take away from your gardens appearance
Get highly quality storage spaces painted to your exact specifications. You can choose any colour you like! They'll definitely suit your gardens style
Choose from all different types of storage including composters. In which you can deposit all your garden waste throughout the seasons
Benefit from durable, weather-resistant materials that won't be damaged by either strong sun or heavy rain
Receive expert advice that'll assist you make your final decision. All items will be crafted according to your specific instructions
We want you to get the best value for your money. That's why we offer you multiple service discounts. Qualify by combing our London storage solutions with either exterior planting or patio laying.
Wooden Storage Ideas That Will Match Your Needs
The storage solutions we deliver in London are bespoke. As a result, you'll need to tell us exactly what you require – the materials, size, purpose, and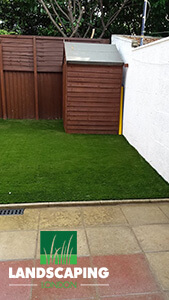 more. Once you've done that you'll get a quote. This will be fixed and finalised after an onsite evaluation. But how will this service benefit you?
You'll be blown away once you've seen the storage you've requested put into action. These attractive containers can store all sorts of items. And you can conceal all of them from sight. When you invite your family and friends over they'll no longer be able to see your gardens green bin or other undesirable elements. In addition, the tools you've no longer got room for can be placed in our quality garden storage solutions. And you can organise them as you see fit.
Who'll Deliver Your Garden Storage Boxes?
Genuine, hard-working, and dedicated local specialists, who're more than qualified to assist you. A local team will be dispatched ASAP. And we'll keep you covered by insurance throughout your garden storage solutions service.
Contact us now! Call us now and you'll be put through to an adviser. Prefer not to speak over the phone? Then chat online. Take note - we give out quotes at all times of the day and night.