Trellis Installation Services in London
Despite being simple, lattice fences are attractive and easy to install. They give climbers like honeysuckles and roses strong support. So what're you waiting for? Book our expert trellis installation service in London today!
You'll be able to choose from different panels and styles. We'll help you find the right type to suit your outdoor space. The process will be nothing less than seamless. Wondering what specifically is on offer? You can order trellises for your fences and walls, as well as those that stand alone. And that's not all.
Connect with an expert now and request your quote.
Fence Trellis Installation That Gives You Privacy
Wondering what other advantages you'll gain? You can…
Have a landscaping expert do a on-site viewing of the property in question beforehand.
Choose from a wide range of different styles. We'll help you find the one that suits your specific requirements
Separate your garden into different sections with your new trellises as borders. This will give it a unique style
Screen for privacy. And hide unsightly areas from neighbours and friends. Don't let your green bin or cluttered tools ruin the look of your outdoor space

Display foliage in a stylish way

. Your climbers will have never looked better. Or been more healthy and supported
Give your garden a superior look and feel. Latticework trellises are extremely attractive and will give your outdoor space a refined quality
Trellis installation London isn't the only service we offer. In fact, you can combine it with either resin bound surfacing or decking installation to get a discount.
Why Use Our Trellis Fencing Service in London?
Initiate our three step booking process by speaking to an expert. Tell us what you need and we'll schedule an on-site evaluation for you. After this you'll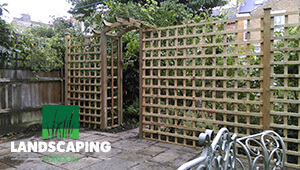 have been informed of all your options and will have received a final quote. Agree to it, and we can perform professional trellis installation in London for you.
Got your trellises? Then use them to improve your outdoor space. Want to know how? Use them to support your high creepers. This will ensure your plants grow upwards and don't affect your gardens other vegetation. Furthermore, you can place the trellises in specific locations across your outdoor space. This will create attractive, stylish divisions. For instance, you could have a section for planting, an area for relaxing, a place to entertain, and more. Did you know we also offer fence trellis installation? This involves fixing a trellis to the top of your fence. It'll make them look attractive even from afar.
Trellis Planter Fittings Performed Exclusively by Professionals
We won't let the number of options overwhelm you. A qualified fence trellis installation adviser will meet you onsite and help you through the process. Who'll perform your actual service? Don't worry - you'll only be sent seasoned, highly recommended specialists. You will get the excellent service that you deserve!
You can contact us any time you like by phone or online. Bear in mind - quotes will be always available.