We're Experts at the Garden Landscaping in London and Around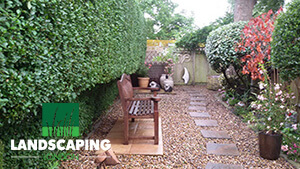 Specialists offering garden design ideas that will suit your taste;
We're familiar with all recent garden trends and will improve the kerb appeal of your property;
Advices and garden planning;
The landscape architects will cover all types of garden projects – from complex garden decoration and hardscaping to simple exterior planting.
We can construct decking, put up fencing, build walls, lay down turf, and so much more!
Garden Makeover Ideas Made Real Right in Your Backyard
The garden plan can be tailored on a budget, we take pride in the flexibility of our work;
Courtyard designs are not limited to big jobs only, we work with small gardens as well;
Well known for our work in London;
You can easily browse around our website and find photos of all of our services. Try out our roof garden designs and layout or installation of backyard sheds;
Time to enjoy and relax in your new outdoor space with family and friends as it will now come with low maintenance;
An on-site viewing by one of the designers for a price evalutation, upon request, completely free of charge
This service is often accompanied by installation of artificial grass cover. Don't forget, by scheduling two or more services at any one time you make yourself eligible for a discount.
What Will the Landscapers Carry out in a Project and How
Firstly you'll need to schedule a visit from a specialist:
We'll come to your property and give you advice.
You'll receive a final cost estimate within three working days after this;
Agree to the price and we can get started.
There are so many options for you to choose from…
A shed in which you can store your tools
Brand new turf around which you can plant colourful flowers
Stylish fencing that separates areas
A patio shaped to your individual preferences and so much more!
All Set to Put Into Effect Your Landscape Garden Ideas?
Rest assured - every member of the team sent to you has been fully trained and insured. We'll work on your outside space in any weather conditions.
You can speak with a qualified adviser in London now, both over the phone and online. Choose the option that's most convenient for you. Bear in mind, the quote you receive during this chat will be preliminary. Want more details? Go to this website's contact us page. We're available 24/7.