Get Bespoke Window Boxes Anywhere In London
Add colour, texture, and life to your façade by having window boxes London fitted to your property. You can have them filled with either real or artificial plants.
You can choose from a wide range of quality options. And once they've been delivered and installed you'll be given professional maintenance tips – keep them looking stunning far into the future. Get the best results by changing your boxes to match the different seasons.
Cost estimates are available round-the-clock. And customer care professionals will give you expert advice and help you make your booking. Act now!
Why Use Our Window Box Planting Service?
Hiring us will guarantee that you benefit from…
Having one of the specialists here perform a non-obligatory onsite survey to discuss final details, before giving you a quote. Just ask the customer representative to schedule one for you.
Quality boxes and planters that are suitable for display on any domestic or commercial property you like
Custom designs that will perfectly compliment your building's look and feel. Choose from a wide range of colours and shapes
A service that can be performed on any weekday, weekend, or Bank Holidays. You can also reach us 24/7
A new-look to your home every single season. All you've got to do is change the colour of your displays
A workforce that will come to your property and carry out your service no matter the weather
It's never been easier to make yourself eligible for a discount. Want to qualify? Then don't just order window boxes in London from us – get roof terrace design or garden landscaping, too!
What You'll Get From Our Window Boxes Installation
Picture this. You're walking down the street heading to your home. Your once-plain windows are now colourful and attractive. As a result your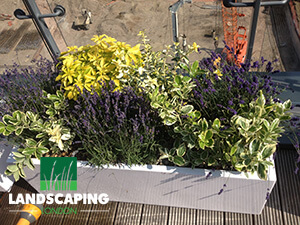 property is almost unrecognisable. The window box planters have been designed to your specifications. And contain plants that you've chosen. It doesn't matter whether they're real or artificial – they still look stunning. You can change the composition to match the seasons. For instance, in winter you can use evergreens. Your friends and family will be blown away!
Want this to become a reality? Book our window boxes service in London. All you have to do is call and give us your project details. We'll calculate a preliminary quote which can then be fixed and finalised after a non-obligatory onsite survey.
Choose Us As Your Window Boxes Company in London
Your complete satisfaction is our main goal. That's why we only employ the most thoroughly trained, passionate specialists in the business. The technicians who perform your window boxes London service will always listen to your opinions. We want to give you the results you deserve.
When the time's right for you, speak to a window box planting professional. Contact us now over the phone or online. We're always available.